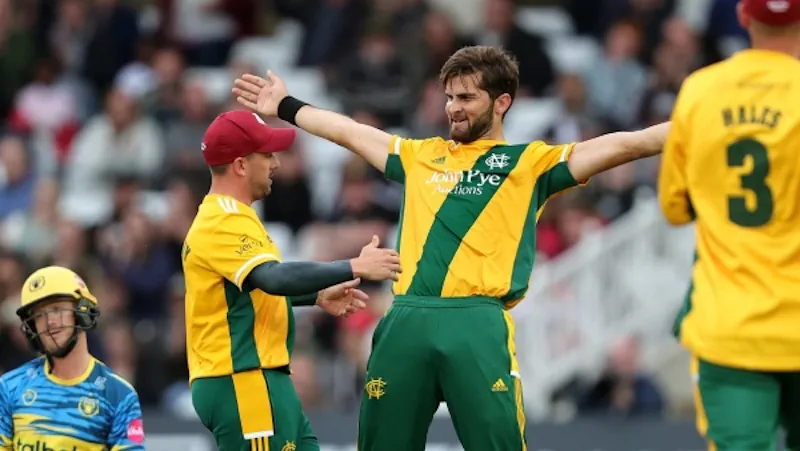 In a display of sheer brilliance and precision, Pakistani speedster Shaheen Afridi has taken an unprecedented four wickets in the very first over of Birmingham Bears' innings in the T20 Blast match against Nottinghamshire.Afridi's fiery pace proved to be unstoppable as he dismissed Alex Davies, Chris Benjamin, Dan Mousley, and Ed Barnard, all within the span of six deliveries. The crowd was left in awe as Afridi's extraordinary feat sent shockwaves through the stadium, leaving the opposition reeling from the early blows.
The opening over witnessed a series of dramatic events, commencing with a wide that granted Birmingham Bears an initial advantage of five runs. However, Afridi quickly turned the tables in Nottinghamshire's favor by removing Davies and Benjamin for a duck each. The pressure continued to mount as Mousley fell victim to Afridi's stunning delivery, leaving the spectators on the edge of their seats. The Pakistani speedster concluded the exhilarating over by dismantling Barnard's stumps, securing an astounding four wickets for a mere seven runs.
Shaheen Shah Afridi on what the atmosphere was like during his first over yesterday when he took 4 wickets "it felt really good, the way the crowd was supporting. It felt like I was bowling in Pakistan"
Prior to Birmingham Bears' innings, Nottinghamshire had set a challenging target of 168 runs in their allotted 20 overs. Tom Moores emerged as the standout performer for his team, delivering a breathtaking innings of 73 runs off just 42 balls. Moores' exceptional display included six boundaries and four towering sixes, significantly bolstering Nottinghamshire's chances of victory.
Despite Afridi's remarkable efforts, Warwickshire faced an uphill battle. Chasing the target set by Nottinghamshire, they found themselves in a precarious position, with four wickets down and only seven runs on the board after the sensational first over delivered by Afridi. However, opener Robert Yates seized control and played a pivotal role in Warwickshire's resurgence. His composed innings of 65 runs off 46 deliveries guided Warwickshire to a thrilling two-wicket victory with five balls to spare.
Although Afridi couldn't add to his impressive tally of wickets for the remainder of the match, his early contribution proved instrumental in keeping the opposition under pressure. Ultimately, his figures stood at an impressive four wickets for 29 runs in four overs.
Warwickshire's dominance continues as they secure their 10th win in 13 matches this season, consolidating their position at the top of the North Group with 20 points. This remarkable victory guarantees their place in the quarter-finals, allowing them to extend their winning streak and potentially claim the coveted T20 Blast title.
Shaheen Afridi's Sensational First Over: Highlights of Each Delivery
Delivery 1: Wide (5 Runs)
Delivery 1: Wicket – Alex Davies (0)
Delivery 2: Wicket – Chris Benjamin (0)
Delivery 3: 1 Run
Delivery 4: 1 Run
Delivery 5: Wicket – Dan Mousley (1)
Delivery 6: Wicket – Ed Barnard (0)